Dental Implants - High Park Dentist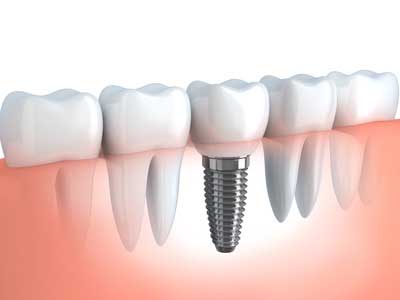 A missing tooth is more than just an aesthetic concern.
It is more appropriate to think of a missing tooth as a space where a tooth used to be. Above and beyond aesthetics that tooth's purpose included acting as a chewing surface, holding its place with regards to adjacent teeth, maintain the bone structure where it was rooted along with many other structural and preventative roles.
Without a tooth or space filler in place, surrounding teeth can shift causing gaps, increasing the occurrence of tooth decay, bone loss, periodontal disease and the appearance of premature aging.
Many of these maladies can be prevented with a dental implant.
A dental implant is a small prosthetic post that is placed into the bone of the upper or lower jaw. The post functions as the root portion of the lost natural tooth and serves as an anchor for replacement tooth. Once the post has settled an artificial tooth is attached to fill the space that was once your missing tooth.
Benefits of Dental Implants Include:
Health and Beauty
When teeth are missing, the surrounding bone begins to shrink. This unhealthy bone loss can make your jaw line recede. Dental implants can help prevent deterioration of the jawbone caused by the loss of teeth, so your face retains its natural shape.
Tooth Structure
Dental implants eliminate the need to alter surrounding healthy teeth to accommodate a bridge or other restoration.
Comfort
Dental implants are securely anchored. There is no slipping or movement as there is with dentures. This eliminates some of the key worries dentures, including poor fit, gum irritation and pain from exposed nerves.
Confidence
With dental implants, you will never need to cover your mouth when laughing, smiling, or speaking. You can eat your favorite foods without pain or fear of embarrassment - and taste every bite. You will look better, feel better, and live more confidently.
There are many different types of dental implants available. Dr. Piplani would be pleased to discuss the benefits of implant prosthetics with you.